While doctors from all over the world look to Rehabilitation Hospital of Indiana (RHI) for their groundbreaking research, potential patients in the Indianapolis area were not necessarily aware of the high-quality care available right in their own backyard. RHI asked us at Williams Randall Advertising to develop and place a new campaign that touted their world-renowned care. 
We first attended strategic planning meetings with key stakeholders at the hospital to learn what sets RHI apart from other rehabilitation facilities. With those findings, our creative team developed online and social media ads, outdoor boards and Pandora commercials.
Increasing RHI's Top-of-Mind Awareness
This new creative paid off in a lot of ways, generating nearly 5-1/2 million impressions in the online campaigns, which is a 225% increase over the previous year's campaign. In addition, there were 11 million outdoor impressions. As we said in the Pandora ad, people don't really think about rehabilitation services until they need them. The digital and outdoor impressions build brand awareness and generate recall so that when prospective patients do need rehabilitation services, RHI is top of mind. 
RHI had a specific goal of increasing awareness in Hamilton County, where one of its campuses is located. Following the awareness campaign, RHI's patient pull from Hamilton County increased by 138% over the previous year. Overall, the campaign resulted in 559 trackable actions, including patient referrals, clicks to schedule a tour, and clicks to make a call.
The campaign also decreased RHI's cost per click on Google Paid Search ads, allowing us to stretch their advertising dollars targeted to those who were actively seeking out RHI services.
Finally, while goodwill isn't measured in numbers, it is always a welcome sight to see past patients and families extolling RHI's services without being prompted. Check out the sample comments on social media to see what we mean.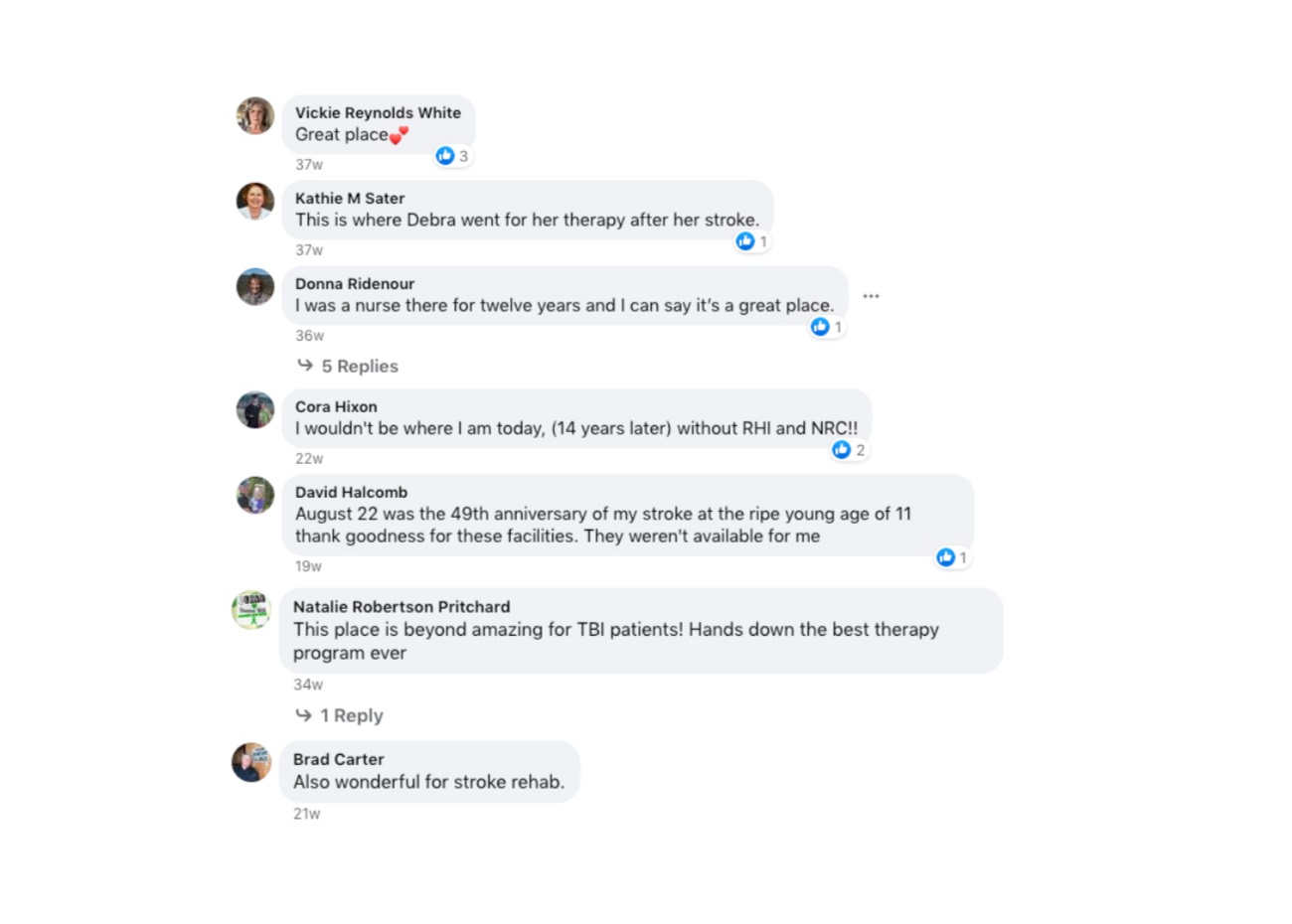 In Case You Didn't Know
If you saw our ads, you probably now know all about RHI. But in case you didn't, we'll tell you that RHI provides both inpatient and outpatient rehabilitation services to treat victims of brain injuries, stroke, spinal cord injury, organ transplants and other accidents or injuries requiring physical, occupational and/or speech therapy.