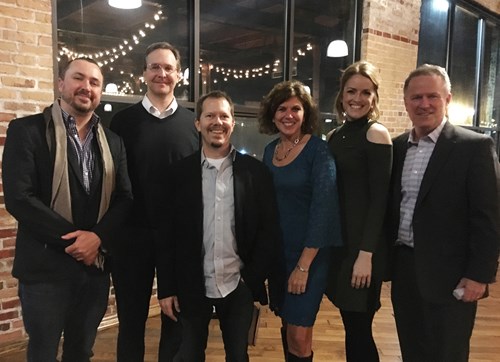 INDIANAPOLIS—A 60-second radio commercial for Holiday World & Splashin' Safari took home a Silver Addy at the February 24 American Advertising Awards celebration. It won in the category of Regional/National Radio Spot. The event, hosted by the Indianapolis chapter of the American Advertising Federation, was held at the Biltwell Event Center near downtown Indianapolis.
Titled "Jim," the radio spot features the enthusiastic whoops and hollers of a man riding Thunderbird at the southern Indiana theme park. A British-sounding commentator translates what Jim's elated eruptions mean as he enjoys the exciting launched winged roller coaster.
The team at Williams Randall responsible for the commercial included Creative Director David Stanton (at right in above photo), Associate Creative Director Dan Zumbiel (third from left) and Director of Client Services Emiley Matherly (not pictured). Stanton and Zumbiel were joined by other members of the Williams Randall creative team at the event.