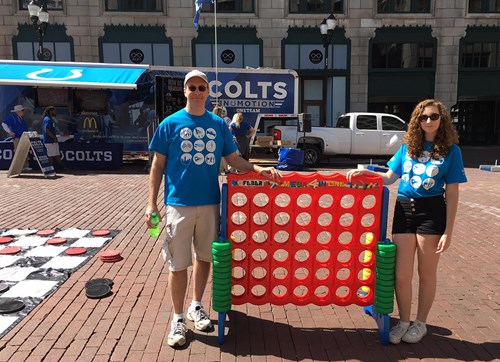 INDIANAPOLIS—As a Checkered Flag Corporate Member of the 500 Festival, Williams Randall joins more than 200 other companies in furthering the nonprofit's mission: to enrich lives, celebrate the Indianapolis 500 and foster a positive impact on the city of Indianapolis and state of Indiana. Not only do we share a building with the 500 Festival, we also share a love for our city and pride in bringing positive attention from a nationwide audience, especially during the exciting month of May.
"The 500 Festival has been around well over 60 years, promoting Indiana through signature events like the nation's largest half-marathons," CEO Gerry Randall said. "We are excited to support their mission however we can."
The employees' dedication doesn't stop at the office doors, either. For example, Senior Art Director Scott Arvin, who has been the lead designer on most of Williams Randall's 500 Festival work, and his family volunteered at this year's JP Morgan Chase 500 Festival Kids' Day in the games area. "I really enjoy participating with the 500 Festival events," Arvin said. "It's a great way for the family to get out and enjoy our city together." This year Arvin designed the Month of May Guide that was distributed in partnership with REACH magazine.
"As an Indiana-based company, we are thrilled to be able to sponsor an organization that embodies the Hoosier spirit in such a wide-reaching and impactful way," Randall added.