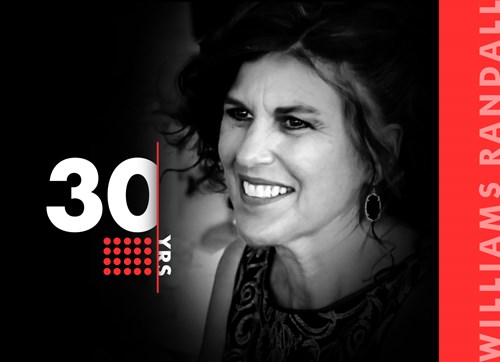 INDIANAPOLIS—You might know her for her dance moves, her above-average knowledge of grammar, her love of Snapchat filters, or maybe even from seeing her in baseball bleachers a time or two. No matter how you know about Gail Hayes, today we celebrate a huge achievement of hers that we think everyone should celebrate—spending 30 years with us at Williams Randall.
Gail graduated from Butler University with a major in public and corporate communications. From there, she worked in marketing for an Indianapolis software startup and as a copywriter at a plastics manufacturer. Soon after, though, she married Tim, a fellow Terre Haute native (with whom she also recently celebrated a 30th anniversary), and moved back to her hometown wondering what in the world she would do with her degree. Turns out the job she found in Terre Haute was even better, because that's when she started working with the nine-year-old local ad agency, Williams Company.
Gail remained a fixture at Williams Company as it became Williams Randall Marketing and opened its second office in Indianapolis. In the earlier days of the agency when staff members wore multiple hats, she served as an account executive in addition to her writing duties. With her heart being more on the creative side, however, she always came back to that side of the business and has written for countless clients during those three decades.
During those 30 years, Gail and Tim raised three amazing children and have a daughter-in-law, too. The Hayes family also had their lives enhanced by hosting three exchange students while their kids were high schoolers. With child #3 now in college, they're taking empty-nester trips whenever possible, especially since their kids are all in different states. To make up for her kids growing up, Gail is now hanging out with a sweet sixth grader through Big Brothers Big Sisters of the Wabash Valley. Also outside of work, Gail has been a mentor through the ISU Networks Scholars Program and served on the boards of the YWCA, United Way of the Wabash Valley, Terre Haute Symphony and—currently—Community Theatre of Terre Haute, where she sometimes plays in the orchestra. She also volunteers with Susan G. Komen Central Indiana, a cause she supported even before her own breast cancer diagnosis (she reminds you to get your annual mammogram if you're a female age 40+!). 
Everyone at Williams Randall will agree that Gail has had a tremendous impact on the agency.
Cheers to 30 more… kidding.