Williams Randall is a cohesive, collaborative, full-service agency but composed of individuals and specialists. Together, we can handle all your needs and become a true marketing partner.
Account Services
We don't ask for trust. We earn it.
The best account people know that in order to provide bold leadership, a client needs to believe we're a true advocate. They know that telling truth to power only works when clients know we're invested in their long term success. And that taking orders should always take a back seat to a well informed conversation. In other words, the best account people don't ask for your trust, they earn it.
Get to Know Them Along with the Rest of our Team
Research + Strategy
Connecting every piece of the puzzle to your audience.
Research and strategy aren't so much a department at Williams Randall as a way of life that's vital to Left-Brain Creativity. How we "sharpen the axe." We do research before, during and after a project. Quantitative and qualitative alike on you, your customers, your competition, you name it. We even have online specialists so we're always considering the interactive nature of digital mediums. Then we filter it all through your goals—connecting each piece of the puzzle to your audience—to create the strategy that will convince them to take the action you want. It's a pretty sweet way of life. And we think you'll love the results.
Read About Our Research and Strategy Work for the Indiana Department of Health
Creative Services
Bringing 'outside the box' inside your comfort zone.
There's a saying that the best creative should make clients a little nervous. While that may or may not be true, the best creative people should make you feel comfortable. Confident. They should have the experience to be bold and honest with you. And the enthusiasm to explore every avenue. So at the end of the day, even if it's work you could never have imagined selling to your stakeholders, you'll know it's the right solution and we'll give you the ammunition to do so. That's why we call it a partnership.
See How We Literally Used a Box to Get Outside the Box for Crew Carwash
Website Services
Architecture. Design. Content. Programming. Kit. Caboodle.
We build websites. We don't mean we outsource them or that we have an expert at populating a template for you. We mean we have experts at building them from scratch. Start to finish. So you can get a website that's unique to your business from the same agency that's fully versed in your marketing goals to keep it in lockstep with everything else you're doing. It's a capability that truly sets us apart. Kind of like all our other capabilities.
Check out the Pete Dye Website Redesign
Media Services
Traditional. Digital. Analytical. Formidable.
Media. It's a particularly broad term, which is both fitting and misleading. On one hand, our Media team has an incredibly wide array of expertise across all mediums. (Long-standing partnerships in both traditional and online, as well as Premier Partner relationships with Google come to mind.) On the other hand, their customized, integrated strategies and a borderline unhealthy obsession with finding your audience lead to pinpoint accuracy and greater cost-efficiencies. So even as they're surveying the constantly expanding media landscape, don't be surprised when the one, single blade of grass you want is exactly where they take you in maximizing your ROI.
If you're into performance results like we are, you might like these:
> Our clients' search engine marketing average cost-per-click (CPC) is 64% below Google's average and the click-thru-rate (CTR) is 3x higher than Google's average across all industries

> We also were able to achieve an average CTR of .75% with Google Display advertising while the Google Display national average is .50%

> With combined search and display, our CPC is less than half of the Google average; therefore, our clients paid half as much for their clicks as other advertisers in Google

> Our clients' average Facebook CTR is 30% above Facebook's average CTR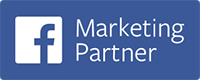 Read How We Helped University of Indianapolis Get its Largest Freshman Class Ever
Analytics Services
Hindsight and insight sharpen our foresight.
Analytics isn't something we dabble in. Not something Account Service does part time. We have a dedicated team of analysts focused on the best way possible to spend your marketing dollars. We track every result imaginable. We develop holistic, proprietary reports on what's working, what didn't (hey, it happens), and how to make it all work better. In short, the Analytics team is an integrated part of each campaign, combining hindsight with insight for the clearest possible foresight.
Our Elements Financial Website Got More than a Case Study, it Got Results