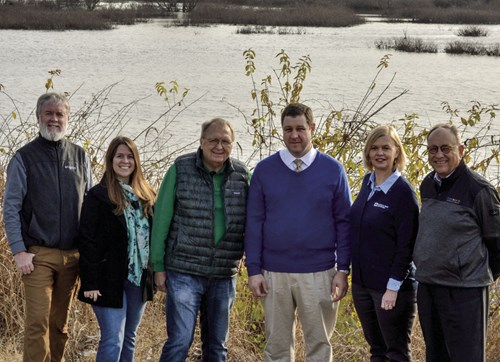 Williams Randall was founded on "The Banks of the Wabash." Well, just blocks from the Wabash River in Terre Haute, which also happens to be President Charlie Williams' hometown. Like many river cities, Terre Haute was settled on the banks of a river for the easy access to transportation and water. Those French fur traders needed to get their pelts to buyers!
Likewise, as happened with many river cities, industries were built on those same riverbanks for easy waste removal into the river. A few centuries later, we all learned that's not so good for anyone. Those industries no longer dump in the river, but the remnants of those days remained.
Enter Williams and a dedicated group of volunteers, officially known as the Wabash River Development and Beautification, Inc. (WRDBI). Their initiative has made real progress over the last decade in reclaiming land on the river and also envisioning future plans. They go by Wabash Valley Riverscape, and their goal is to transform Terre Haute's riverfront.
"The Riverscape work has been a public-private partnership with Vigo County, the City of Terre Haute, their Redevelopment Commissions, and Indiana State University," Williams explains. He serves the group as president and has been involved for eight years, while WRDBI is more than a decade old.
To date, Riverscape has overseen the opening of the Wabashiki Fish and Wildlife Area, which now has trails for nature lovers, hikers, bikers and runners. American Bald Eagles and river otters, absent from central Indiana for more than a century, are making their way back to the area. And little Dresser, which was a squatter's den on the river's West Bank, is becoming a new trailhead and passive park for Vigo County.
Meanwhile, across on the river's east bank, Indiana State University has built a world-class Track & Field Complex and developers are beginning work to convert a old plant for use as market-rate apartments with scenic views of the river on one side and the city skyline on the other. And all this redevelopment is inspiring enhancements to the community's trails system; the ArtSpaces outdoor sculpture collection, installing new pieces of public art in Fairbanks Park; Fort Harrison, the historical tourism site of the United States' first land victory in the war of 1812; the newly established rowing club, Terre Haute Crew; and another former plant site of 64 acres near I-70, a new Aquatic Center, and the area's retail shopping hub via the Vigo County Redevelopment Commission's purchase and hopes to create even more spaces that the public and visitors can enjoy.
"Terre Haute is my home," Williams said. "By dedicating most of my volunteer time to Riverscape and elevating our quality of place, I hope we're leaving a legacy for my grandkids and future generations. If people love living here, jobs will follow."
When Terre Haute native Paul Dresser wrote Indiana's state song in 1897, he was away from home and missing it. His reminiscent legacy inspires the Riverscape group still today as they work toward a revitalized "Banks of the Wabash" that people will come from far and wide to enjoy.
Keep up with the group's progress on their Facebook page.