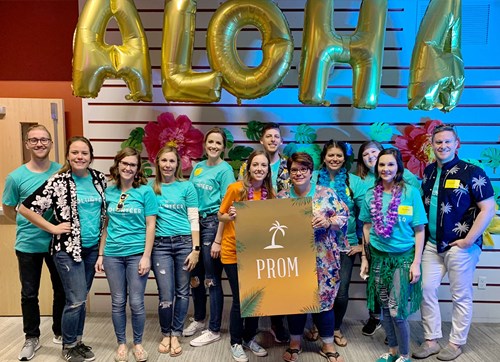 INDIANAPOLIS—Williams Randall is filled with hard-working, talented professionals who share their gifts to help our clients achieve their goals. Many of our staffers also volunteer their talents after hours to make an impact for others. This time we're featuring Account Coordinator Emma Harris, Manager of Online Design Haley Hodgen and Analytics Specialist Julia Thorpe.
Harris is mentoring a super cool 10-year-old through Big Brothers Big Sisters of Central Indiana. She and her "Little" hang out a couple of times a month, doing fun things like climbing to the top of the Soldiers & Sailors Monument and cheering on the Butler Bulldogs at Hinkle Fieldhouse. Harris is also finding out why "slime" is all the rage among the 10-year-old crowd. "I am only three months in, but I am very excited to be a part of this organization for years to come," Harris said. Big Brothers Big Sisters pairs adult mentors with kids from a variety of backgrounds to provide a positive role model and help them overcome difficulties in their lives.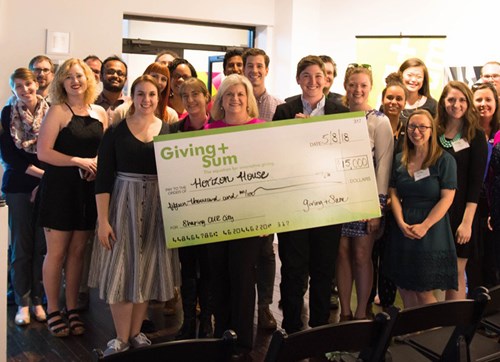 Hodgen recently helped put on a Special Needs Prom, where volunteers from three church campuses came together to love on this marginalized community and ensure the guests had the time of their lives. Hundreds of guests came from around the state to enjoy a themed evening that included a salon, karaoke, dancing, games, a king and queen photo booth, and even a retreat for the guests' caregivers to be treated to a relaxing massage and hot meal. Hodgen's job this year was to help bring the tropical theme to life. "We had Geronimo balloons, fresh tropical flowers, jungle vines, palm fronds, giant tiki men, beachballs and leis to make it truly a night to remember," she said. Get all the feels when you watch this recap video.
Thorpe is part of a group of young professionals called Giving Sum, whose members pool their time, resources and money to give back to the community through a grant each year. They go through a grant review process to decide which project they will support in a given year. This year, Giving Sum chose Horizon House to help create laundry containers full of items that people need when they're transitioning from homelessness to housing. "In addition to donating needed money, we also volunteer with Horizon House throughout the year," Thorpe explained. In just 10 years, Giving Sum has gifted more than $350,000 and served hundreds of volunteer hours.