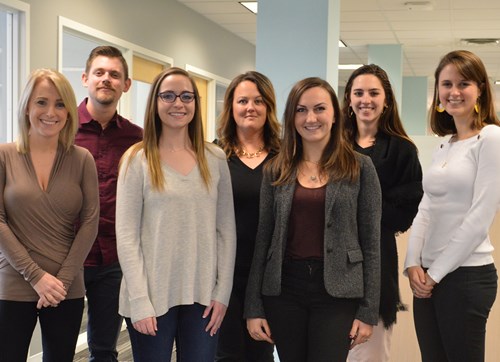 INDIANAPOLIS—Williams Randall clients benefit from all departments, but the account services team is the one providing day-to-day contact and strategic planning. "Our account services professionals are marketers and strategists first, giving them the knowledge and skills to lead clients in the planning and execution of their efforts," explained Director of Client Services Emiley Matherly. With a limited number of clients assigned to each account services team, Williams Randall is able to delve deeply into a client's marketing needs so we throughly understand a client's brand, industry, audience and competitors.
Williams Randall's account services teams work in pairs comprising an account supervisor and account coordinator. Lauren Fiedler and Lindsay Leer have earned promotions to account supervisor, allowing them the capacity to advocate for their clients. With an eye on the long term, they execute goal-focused plans for their clients based on past successes and best practices. At the same time, they keep open and frequent lines of communication with clients.
Fiedler and Leer were recently joined by a third account supervisor, Paul Waltz. With a decade of marketing experience, Waltz previously worked with Fat Atom in a number of roles, most recently as senior account manager. He was also a program director for Apprenace, an organization that helps businesses effectively mentor and benefit from interns. During his career he has honed his skills in a number of areas, including analytics and reporting, marketing strategy, digital marketing and presentations.
Each of the account supervisors works closely with and mentors a dedicated account coordinator. Lexa Muehlbauer, Mallory Jennings and Emma Harris are paired with Fiedler, Leer and Waltz, respectively. In addition to ensuring projects are completed on time and budget, the account coordinators communicate with clients regarding project details. 
"We have structured our department to provide our clients with bold leadership in creating and executing effective marketing plans," Matherly said. "Our aim is to allow our clients to have confidence in knowing we are a marketing partner invested in their long-term success."