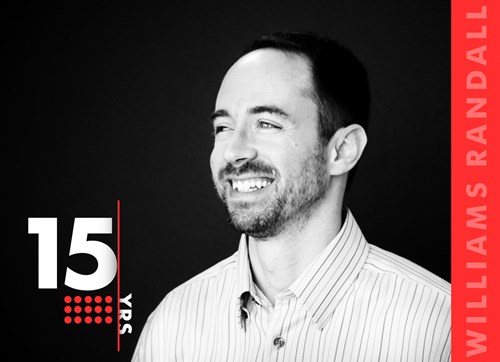 TERRE HAUTE—Although Web Developer George Rahman began his Williams Randall career on Groundhog Day 2004, it's hardly been the same thing over and over again for George like it was for Bill Murray's character in the movie of the same title. In addition to developing websites, as his title suggests, George also ably programs emails and landing pages, works on analytics initiatives, monitors and optimizes website performance, provides technical support and is the administrator for Williams Randall's servers, among other duties. 
"I've always enjoyed having a variety of responsibilities to keep things interesting at work," George says as he reflects on a decade-and-a-half at Williams Randall. "I think my favorite kind of project is a larger website. I enjoy the intense collaboration that often comes toward the end as the site begins to come together. It reminds me how great our team is."
Growing up just 10 minutes from Holiday World & Splashin' Safari in southern Indiana, George visited there every summer, making him personally very aware of one of our clients way before joining the Williams Randall team. As an adult, he earned an MA in theology from Saint Meinrad School of Theology, which is also located just minutes from his hometown. This degree is in addition to his BS from Rose-Hulman Institute of Technology in computer science and mathematics.
If you visit George at our Terre Haute office, you'll quickly see that he is into music almost as much as computers. In fact, you might be lucky enough to hear him play a little on the electric guitar he keeps at the office if he happens to be waiting for his computer to catch up to him. George and his wife, Katie, are parents to 10-year-old Andrew.