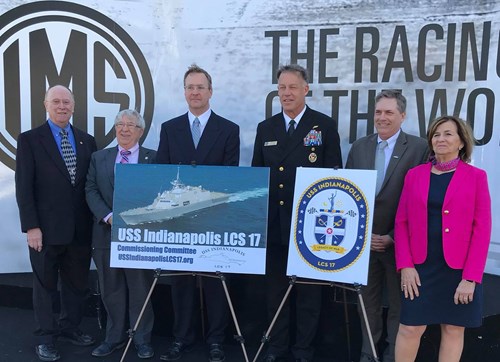 INDIANAPOLIS—Last Friday, the USS Indianapolis Commissioning Committee unveiled a new crest for a new ship that will bear the city's name. The crest was designed by Williams Randall Senior Art Director Scott Arvin, who learned a few weeks ago that his design won an online design contest. Arvin participated in the unveiling ceremony, held at the Indianapolis Motor Speedway, flanked by Mayor Joe Hogsett, Rear Admiral Sean Buck, and Jill Donnelly, the ship's sponsor, among other dignitaries.
"I was trying to think of the design in terms of what people outside of Indianapolis think about the city," Arvin explained. "So I included iconic images like the Speedway and Monument Circle."
The crest will be used to identify the ship but will also appear on stationery, plaques, patches, coins, hats, shirts, uniforms and other items. The practice to have a crest specific to a U.S. Navy ship began during World War II. Arvin's crest is for the USS Indianapolis (LCS 17), a Freedom-class littoral combat ship (LCS) that is the fourth ship to bear the Indianapolis name. It's currently being constructed in Wisconsin. 
"It's a real honor to be included in this process," Arvin said. "The first three ships named the USS Indianapolis played important roles in our country's history. It's exciting to know my artwork will be on the fourth in the line."
Williams Randall agrees and congratulates Arvin on this memorable accomplishment.