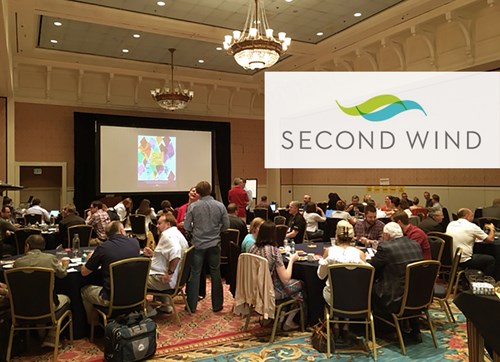 INDIANAPOLIS—In the advertising agency world, an account executive spends his or her days in meetings, developing campaign strategies, managing budgets, answering emails and other tasks required to be the best partner they can be to their clients. Two of our account service team recently paused these day-to-day duties to participate in  a two-day seminar conducted by Second Wind. Senior Account Executive Lauren Fiedler and Account Executive Lindsay Byers joined about 50 other agency principals, account executives and account coordinators from across the country at the training, which was held at the Gleacher Center on the University of Chicago Campus April 10-11. 
"It was great to immerse ourselves in a room full of professionals who face the same obstacles," Fiedler commented. "Not only did we learn directly from the training, but we were able to bounce ideas and concerns off of our peers in order to educate ourselves on better serving our clients." The seminar focused on account service and account planning, with topics such as ways to keep clients happy, organizing daily work, starting projects off on the right foot, and improving agency processes, among many others.
The seminar was led by Second Wind Chief Operating Officer Laurie Mikes, who provides agencies with guidance about financial matters, agency growth and operations. Second Wind is the largest trainer of advertising agency people in the world, having trained over 15,000 agency professionals in the last 20 years. They focus specifically on small- to medium-sized agencies.