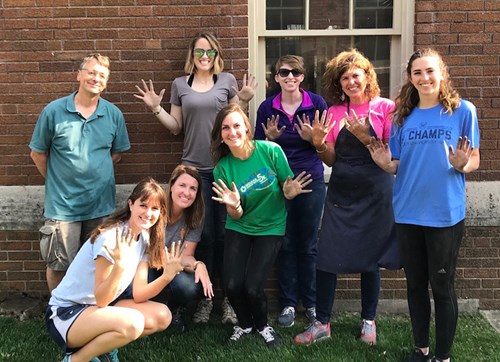 INDIANAPOLIS—Williams Randall thrives on being problem solvers, so a volunteer outing to People for Urban Progress (PUP) was a perfect fit. PUP was founded by two community-minded problem solvers in 2008 when they wondered what would happen to the 13 acres of material that covered the recently demolished RCA Dome. Turns out it was headed for the landfill, so they came up with a better plan. Now that material is being "upcycled" into totes, bags, wallets and other items by the 501c3 organization. (You can shop online or look for items at local shops like Silver in the City.)
PUP also makes items out of used banners, including some from Indianapolis Indians games and events like Super Bowl XLVI. Those in the Indianapolis area might have noticed stadium seats from the former Bush Stadium placed at IndyGo stations. PUP was behind that effort, as well, so they're known as PUPstops. Whatever task they take on, PUP seeks to advance good design and civic sustainability.
On Tuesday, eight Williams Randall staffers spent a couple of hours cutting, cleaning and drying sections of the dome so that stitchers can transform them into useful items. In their usual driven-to-perform spirit, the team cut and cleaned over 500 square feet of material—a feat the organizers said was impressive. Williams Randall is grateful to PUP's Jason Chisam and co-founder Jessica Bricker for coordinating this volunteer outing.