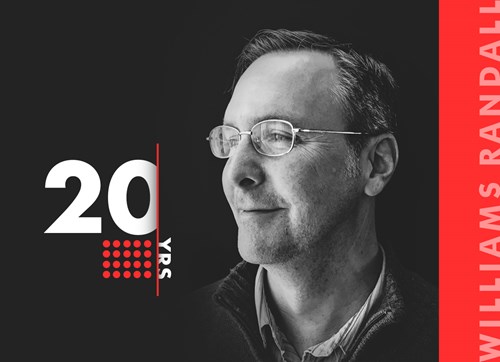 INDIANAPOLIS—He jokingly signed his emails as "art director, illustrator, lightbulb changer and anything else they ask me to do." Senior Art Director Scott Arvin is the tallest one in the office, and he is also an extremely talented illustrator and designer. In his two decades at Williams Randall, Arvin has provided effective creative solutions for clients as varied as 500 Festival, Indiana Tourism, Rose-Hulman Institute of Technology, MDwise, G&H Orthodontics and more. 
"To say I'm envious of the amazing illustrations that flow from his pen is an understatement," Creative Director David Stanton commented. "Scott brings an illustrator's eye to his design work that benefits every client."
Arvin started with Williams Randall in our Terre Haute office in 1997, moving to Indianapolis in 2003. He has a BS in art with a drawing emphasis from Indiana State University and an AAS in graphic media production from Ivy Tech. He is also an avid birder and has published several illustrative covers for the Biggest Week in American Birding, served on the board of the Indiana Audubon Society, and is editor of The Warbler newsletter.