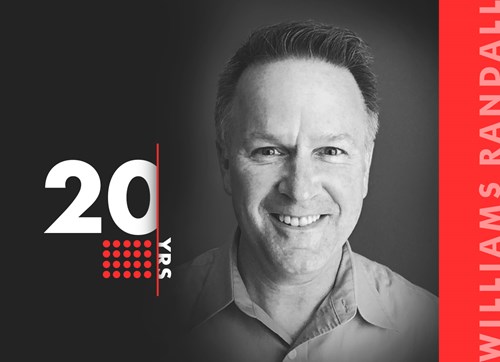 INDIANAPOLIS—Creative Director David Stanton marked 20 years with Williams Randall today. He first worked for Williams Company (our original name) early in his career as an art director when we had just one office in Terre Haute. After spending a few years elsewhere, Stanton returned to Williams Randall as creative director in 2000. 
"David always pushes us to think about every angle of a situation, whether it's a Williams Randall or client project," CEO Gerry Randall commented. "He leads with both humor and humility. He also leads by example, demanding as much attention to detail from himself as he does those on the creative staff."
Stanton earned a bachelor of fine arts in graphic design from Indiana State University. Over his long career in advertising, he has helped achieve goals for clients in a wide variety of industries: healthcare, tourism, banking and insurance, among others.
In an industry where there tends to be a lot of turnover, Williams Randall has a high percentage of employees with long tenure. In fact, as Stanton marks 20 years with the agency, he joins eight other staff members with work anniversaries in double digits, ranging from 10 to 37.