TERRE HAUTE—Williams Randall employees and guests volunteered this past Saturday at the swimming events of the 2017 Special Olympics Indiana, held on the campus of Rose-Hulman Institute of Technology in Terre Haute. The volunteers acted as timers, helping to verify the official times recorded by the event representatives. Events included both individual and relay races, ranging from 25 meters to 200.
And while the enthusiastic athletes won ribbons for their feats, the Williams Randall folks felt like they were even bigger winners.
"I had an amazing time! The smiles that lit up the athletes' faces when you told them that they got first place were priceless to me. I had tears in my eyes a couple of times," recalled Financial Assistant Allison Gearries. 
Account Coordinator Lindsay Byers (who also coordinated the Williams Randall outing) agreed. "Everyone at Special Olympics was inspiring—whether it was the swimmers' enthusiasm for their teammates' success as well as their own, the parents' immense support of all swimmers in the pool regardless of their team, and each of the coaches' immense gift for teaching more than just skills that can be used in the pool."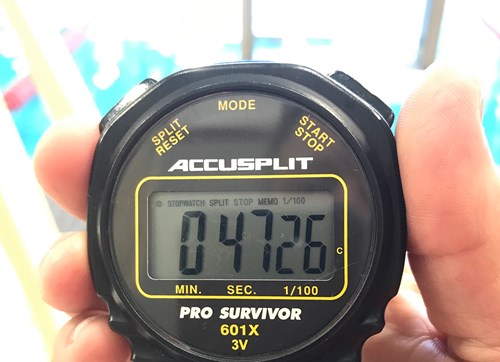 "I enjoyed being a part of this event as I was truly inspired by these athletes," said Associate Media Director Tammy Mantor. "It was fun interacting with them and also very touching seeing their reactions when they won a race and were so excited!"
"Helping out at Special Olympics is always a great way to put life in perspective," Senior Writer Gail Hayes added. 
Creative Director David Stanton brought along his teenage son, and Byers' out-of-town guest also participated in the group effort.
Special Olympics Indiana is a nonprofit organization providing year-round sports training and athletic competition in more than 20 Olympic-type sports for people of all ages with intellectual disabilities, reaching more than 12,000 athletes across Indiana. It is part of the international network of accredited Special Olympics Programs reaching 4 million athletes worldwide. Rose-Hulman's collegiate neighbor, Indiana State University, was the birthplace of Special Olympics Indiana, hosting the first event in 1969 and almost every year since. Learn more about Special Olympics Indiana and ways to be involved.