A quick 30 seconds. That's how long a TV commercial usually lasts. So how many people could it take to put that together?
Turns out it takes quite a few. A lot of people. A lot of time. And a lot of talent—in preproduction, on set and in the editing room.
This spring we had the good fortune of traversing Indiana, all the way from the cool waters of Lake Michigan in the north to the cool waters of Santa Claus in the south. And when we say "cool," we actually mean cold. But you wouldn't know it watching our commercials for Indiana Tourism and Holiday World & Splashin' Safari. That's because actors are there to, well, act. So you'd never guess we and the crew were behind camera bundled up in long pants and jackets while the cast was splashing around in the waves—in swimsuits and smiles. Ah, the magic of cinema. So come along as we share a few more TV Tales from the Indiana Road.
Animals Don't Necessarily Take Direction
The grizzlies at Wilstem in Paoli are used to TV cameras. They've been seen with their owner, Jeff "The Bear Man" Watson, on Animal Planet's Project Grizzly and Discovery Channel's Porter Ridge. So, if we want Bob the grizzly to look fierce, Jeff just offers a cookie with the hand gesture Bob knows to mean "look like you're growling."
Kangaroos? Well, they're another story. When we scouted Wilstem, we were mesmerized by the cuddliness of the kangaroos—and you can just walk out among them! So they definitely made the shot list for the family of six (four girls, mind you) who would be taking our French Lick-area getaway. We imagined girls hopping right alongside the kangaroos. Well, it was a good idea, but the kangaroos wanted to jump the other way. Or not jump or all. And while it wasn't exactly what the director had in mind, we still captured some adorable moments that made the final cut.
You might learn other things you didn't know about animals and kids. Like some little girls are allergic to giraffe saliva and break out in hives all over their arms. (Sorry about that, Annaliese.)
Kids Also DO the Darndest Things
Art Linkletter aptly named his mid-century TV show and book Kids Say the Darndest Things. And it's still so true that there's a new version of the show coming out this fall hosted by Tiffany Haddish. And while the commercials we were shooting didn't have any on-camera lines, we still enjoyed some of their antics during filming.
A visit to Indiana Dunes must include a stop at Albanese Candy Factory in Merrillville, for instance. Even with two days for shooting a beach-based getaway, there wasn't time to get the family and crew to the candy factory, so we added bags of sweets to the prop and shot lists so the famous gummy candies could still make a cameo appearance. The script refers to the kids being "their sweet little selves" while we're showing brother and sister enjoying gummies near the shore. The director suggested things like dropping the gummy worm in their mouths as if they were baby birds. Well, the camera kept rolling and they kept being kids. Which turned into gummy worm mustaches and gummy worms stuck up nostrils. Yeah, there's a lot of footage that doesn't make the cut.
At West Baden Springs Hotel, we envisioned accenting the large round atrium by filming the girls from high above as they spun around, so we asked the wardrobe stylist and the family to bring lots of choices of twirly dresses. Well, when you give four girls ages 5-12 the direction of "keep twirling," they will do it! Even when the executive creative director is worrying that they might get so dizzy they would fall. Sure, they looked a little tipsy by the end, but they were truly as happy as they appeared on camera.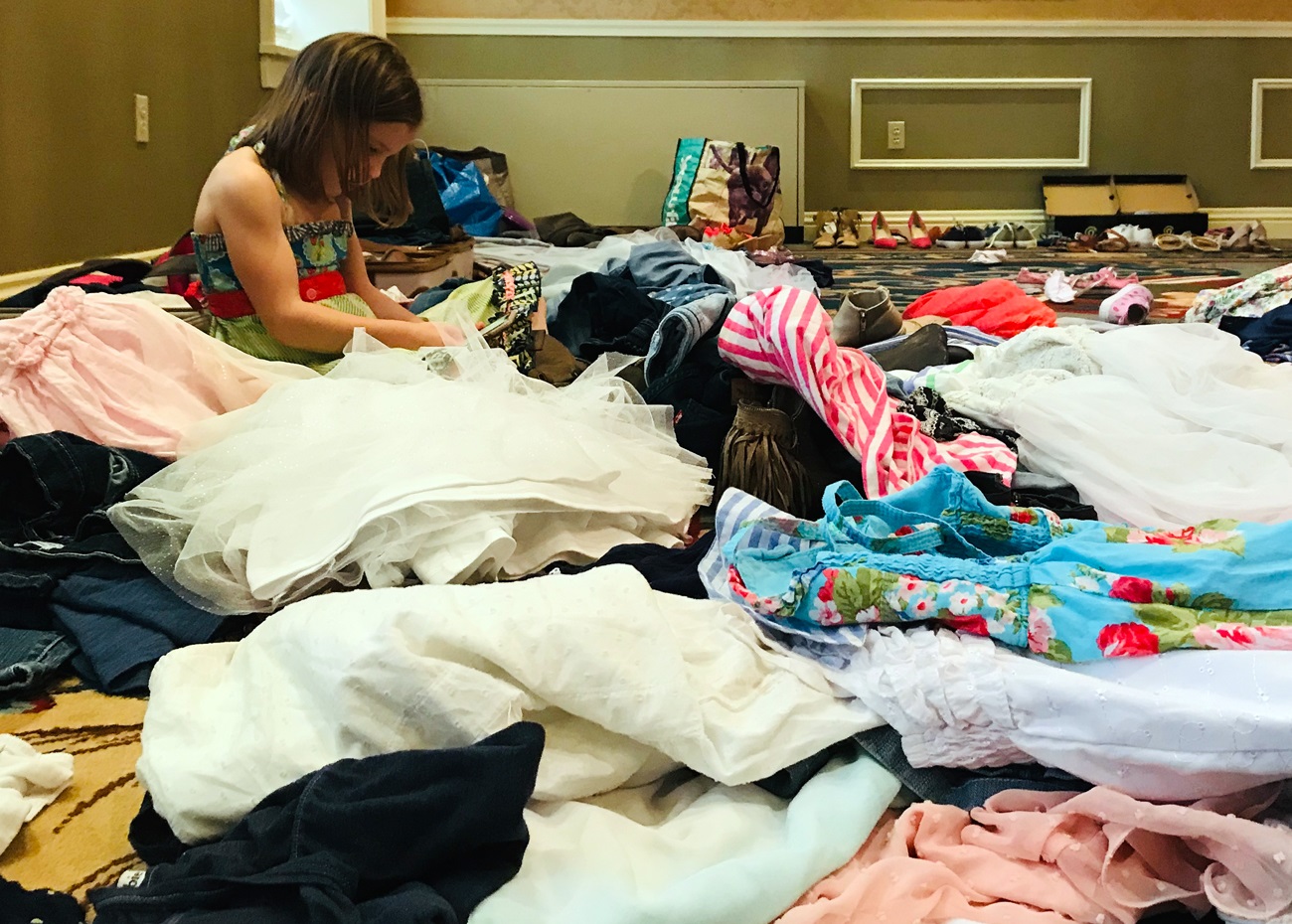 Riding Thrill Rides Repeatedly Can be Less Than Thrilling
Maybe not if you're age 9. In fact, capturing the real-life reactions of 9-year-olds the first time they go upside down on a roller coaster is most satisfying. And there's just one chance to get that first reaction—it takes expert work by the grip to rig the camera, as well as spot-on timing by the co-directors, director of photography and photography assistant.
But we've also learned that it's good to get Mom and Dad's reactions the first time, too. Because spinning rides don't feel so good when you're over 40 and you ride it several times in a row. Especially after lunch. That's another of those preproduction tasks that must be checked off the list to make a shoot day go smoothly. "Do you have experience riding roller coasters and other amusement park rides?"
Creativity Abounds
Sure, there's creativity in concepting the commercials. In casting the families and friends. In getting the custom music written and produced. The list goes on. And it also includes creativity in pulling off the shots exactly how the director envisions them.
As the trolley pulled up to West Baden Springs Hotel, for example, the camera assistants pushed the director of photography (DP) in a rickshaw, running alongside the trolley. They also rigged the DP so he could safely hang off the side of the trolley for another angle. Once we even saw him being pushed on a dolly. Likewise, when we had our travelers bicycling around Columbus, the camera assistants sprang into action again to have the DP wheel alongside the bikes in a rickshaw so the movement is captured in just the right way.
And when the script implies it's a hot, sunny day but Mother Nature decides to be chilly and rainy, you sometimes have to improvise with a giant spotlight on a sand dune, instead. (And this was after rescheduling 17 times due to weather, mind you.)
You might also find out that the stand-in band you hired to pretend to play on the streets of Holiday World can actually learn the song right on the spot. Creative, indeed!
We ♥ Our Jobs
What's not to love? We get to spend time visiting Indiana's top attractions, and we get to share that with future travelers so they are encouraged to go experience it for themselves. And we get to participate in the magic of television—and have a few laughs along the way. Now you'll have a new appreciation for the behind-the-scenes activity as you view the finished products.