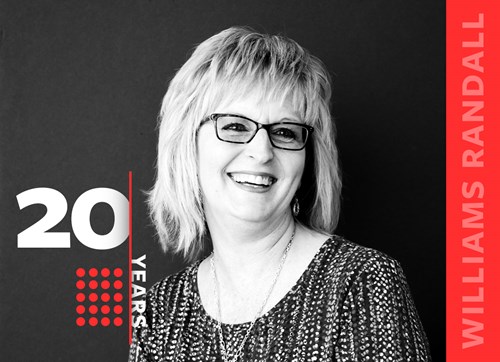 Williams Randall Advertising extends congratulations to another team member reaching the 20-year mark. Associate Media Director Tammy Mantor joined our Terre Haute office as a media buyer in 2000 when her husband's job working on fighter jets at the local air base brought her back to the Midwest from Texas. She began her career in media with a firm in Bloomington, Indiana, before moving to Williams Randall.
"I was always interested in working in advertising when I was younger and quickly realized that media was the side of it that was meant for me. I love the interaction I get to have with so many people in our industry and am a born negotiator." We and our clients are always appreciative of her mad negotiating skills, delivered in a firm yet friendly manner. "My job is never boring as there are always new things to learn with changes in technology and how people consume media on a daily basis," she added.

A native of Dexter, Missouri, Tammy earned her marketing degree from Missouri State University, then known as Southwest Missouri State. She first put her degree to work in Dallas, where she worked for Walmart, starting in in-store management. She then moved into their Store Planning Division, where she traveled around the country helping to set up and open new stores.
She and her husband have also been married for 20 years and are the parents of two teenage boys. Tammy and Skip love decorating for the holidays. If you visit her at Christmas time, don't be alarmed when a life-sized Clark Griswold is smiling at you through the dining room window. While her boys were growing up, she was a volunteer extraordinaire as PTO president and soccer parent helper. Currently she's rocking babies and pinching cheeks in the nursery at her church as a volunteer. Tammy also loves gardening and landscaping, cooking, animals, and anything else that can get her outside.