At Williams Randall, we strive for continuous improvement, as evidenced by our Left-Brain Creativity process, so we're always looking for ways to get better results than the previous year or even the previous month. After several years of working with Elements Financial, we had finetuned so many aspects of their branding and product campaigns and had driven thousands of applications each year. So when we noticed their auto loan campaign lag behind the rest of their product campaigns in application generation, we got to work on improving the results. 
Our Hypothesis
We wondered if this lag was due to the size of the purchase, but the outstanding mortgage campaign metrics debunked that theory. We then considered the process of buying a car and how so much of that process happens at the dealership where financing is baked into the experience. It struck us that we may be asking the audience to commit to more than they were ready for given the norms of car-buying.
Our Process
To test this theory, we ran the auto loan campaign as an A/B test. We showed half the users a new "Get Preapproved" call-to-action button alongside the original "Get Started" button on the landing page. The other half, the control group, was served only the "Get Started" option. Although the language was different, both buttons led to the application.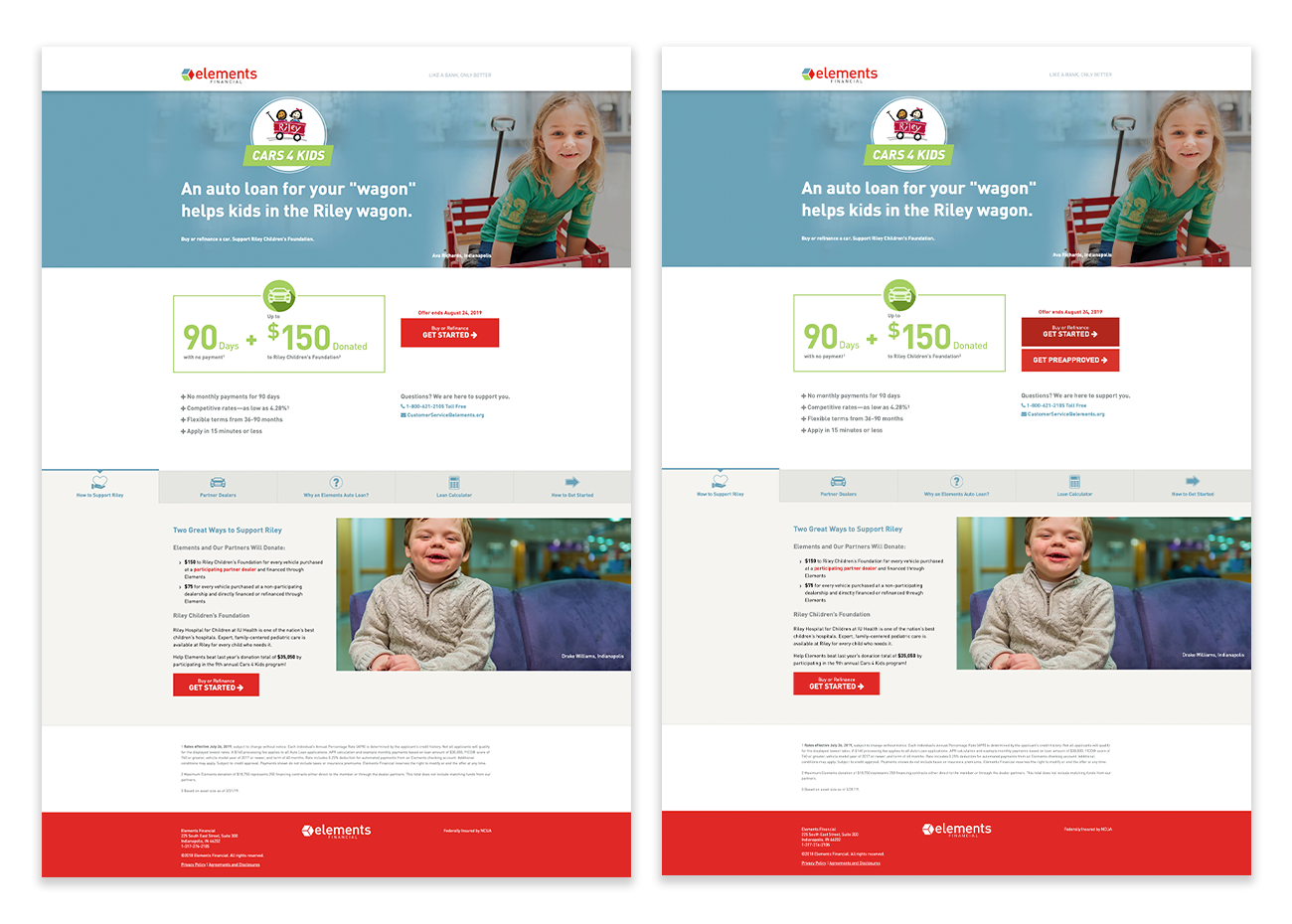 Our Results
Turns out our hypothesis was correct. People were more willing to get pre-approved than fully commit to an application. Giving users the option to get preapproved increased the likelihood that they would click to apply by 43%. This, along with our regular media optimizations, empowered Elements to more than double their leads year-over-year despite a slightly smaller budget for the campaign.
Needless to say, Elements' auto loan campaign will always include a "Get Preapproved" call-to-action moving forward. Now it's time to figure out what else we can do to push the campaign to even more success in the future. Like we said, we love continuous improvement over here!