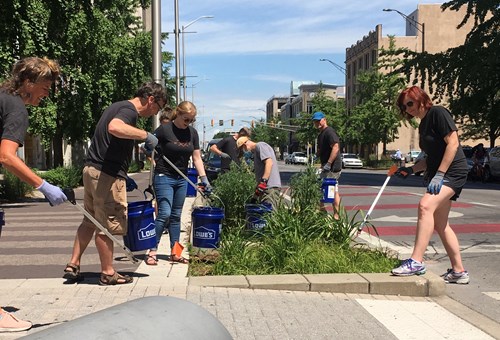 INDIANAPOLIS—After three months of seeing each other only by video conference, a few of us gathered for an afternoon last week to do our 2nd annual cleanup of the Indy Cultural Trail. We raked beds and spread mulch near Washington and Capitol and then made our way toward Alabama with trash picker-uppers and buckets in hand.
Our Virginia Avenue office sits on one portion of the Indy Cultural Trail, whose eight miles of trails connect Indy's six distinct cultural districts. Our office sits in what's known as The Wholesale District.
"We love doing our little part for the Indy Cultural Trail, and this year's cleanup was even more of a treat because it was a reason to be together for an afternoon — safely socially distanced by two trash pickers' lengths, of course," quipped Associate Creative Director Gail Hayes. "While we keep an eye out for weeds and trash by our office all the time, it's also nice to have this concerted effort on a larger scale each year."
Indy Cultural Trail, Inc. relies on more than 3,000 volunteers each year to maintain all of the Trail, 25,000 square feet of stormwater planters, 5 acres of urban gardens, 50 Pacers Bikeshare stations, 500 bikes and 12 pieces of their public art collection. Of course, they are always looking for new volunteers, so here's a link if you're interested.