You know what a drone is: a small, light unmanned aerial craft kept aloft by numerous propellers, controlled remotely from the ground and capable of carrying any number of technologies into the sky, including cameras, weapons and quite a bit more. Consider how many industries drone technology has profoundly affected in the past 15 years: Military, Intelligence, Aviation, Law Enforcement, Real Estate, Conservation, Security, Logistics, Construction and Agriculture are but a few of a growing list.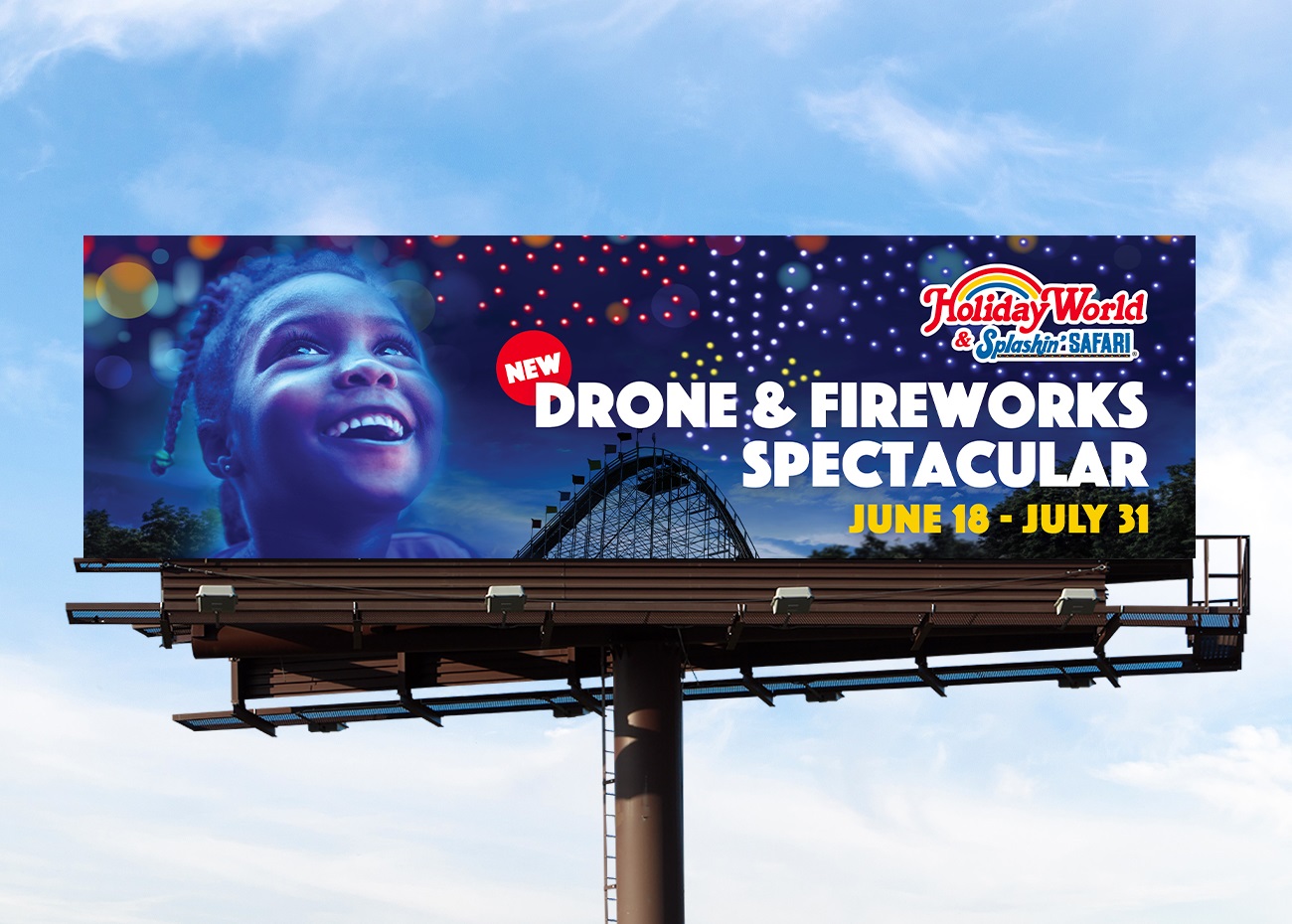 Add the Entertainment industry to the list. More specifically, that corner of the industry occupied by Holiday World, a southwestern Indiana family theme park that's been an important Williams Randall client for going on a decade. 
In an increasingly crowded and competitive regional theme park market, Holiday World has sustained its popularity over its 76-year history, thriving through the good times and weathering the rough patches with remarkable resilience. One way they've managed this is by keeping their eyes open, and staying abreast—and sometimes ahead—of industry trends.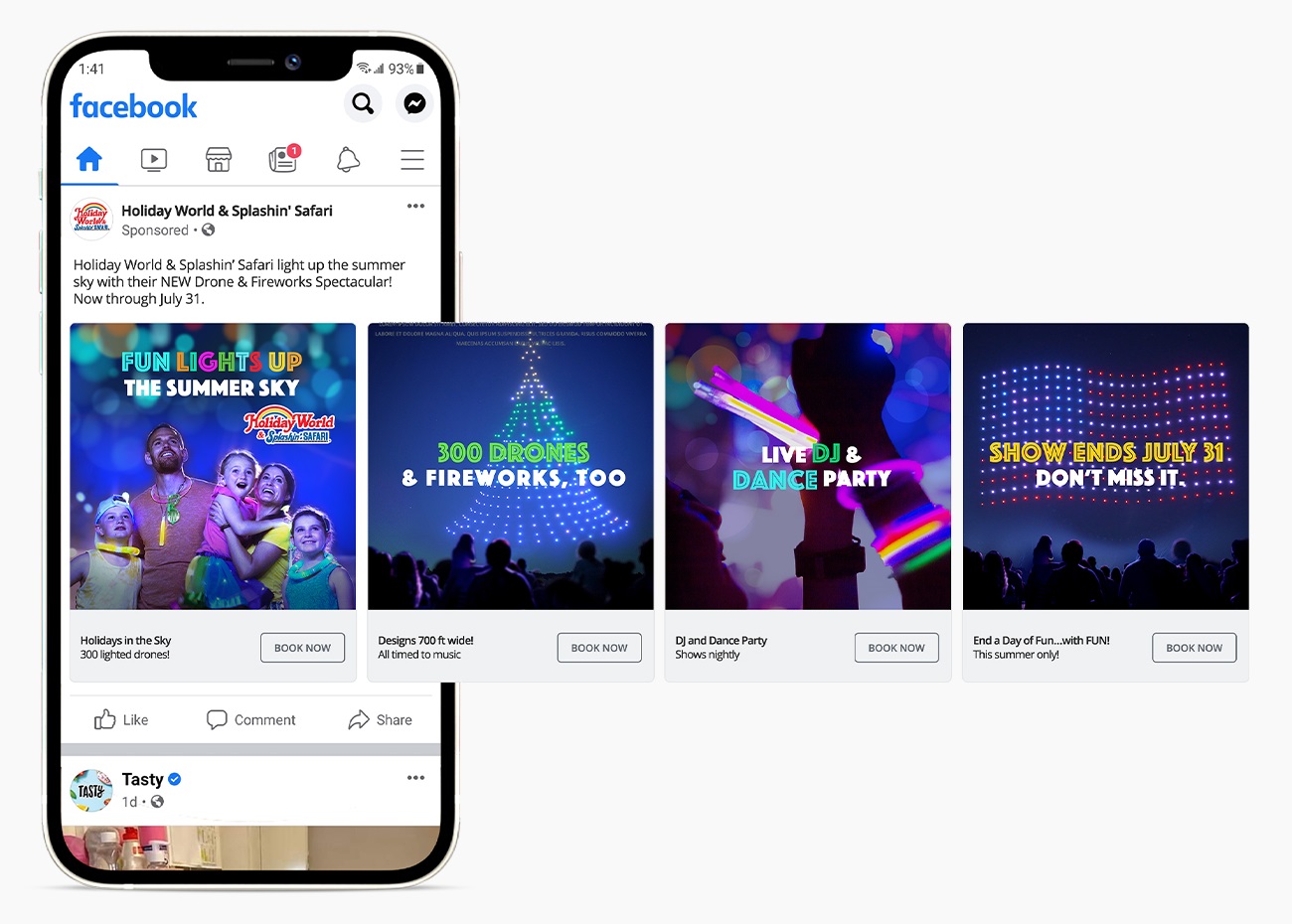 Raising the Already Sky-High Stakes
For decades and decades, many theme parks have offered customers a fireworks show at the end of the day, a festive send-off and an incentive for patrons to stay until closing. But in recent years, the stakes for end-of-day sky shows—indeed, any sky shows—have been raised by the new practice of incorporating drones into the show. 
Drone shows, to the new viewer, seem like the non-ephemeral cousin of fireworks. WiFi, GPS-positioning technology and ultrahigh-speed real-time computing make it possible to use LED-equipped drones as a medium to create giant, dynamic 3D light sculptures hundreds of feet in the air. If you ever doubt that we're living in the future, read that sentence again.
The Art of Seeing the Next Big Thing
Holiday World has survived and thrived for three quarters of a century by understanding what thrills crowds and finding a way to incorporate that into their park. It didn't take long for park executives to realize that having a show of "fireworks" that never burnt out and that you could sculpt into pretty much anything you could imagine might be exactly the thing thrilling park-goers next. Theme parks able to harness this new technology early would have a leg up on competition; conversely, late-comers to the drone party might see their legs (and revenues) cut out from under them.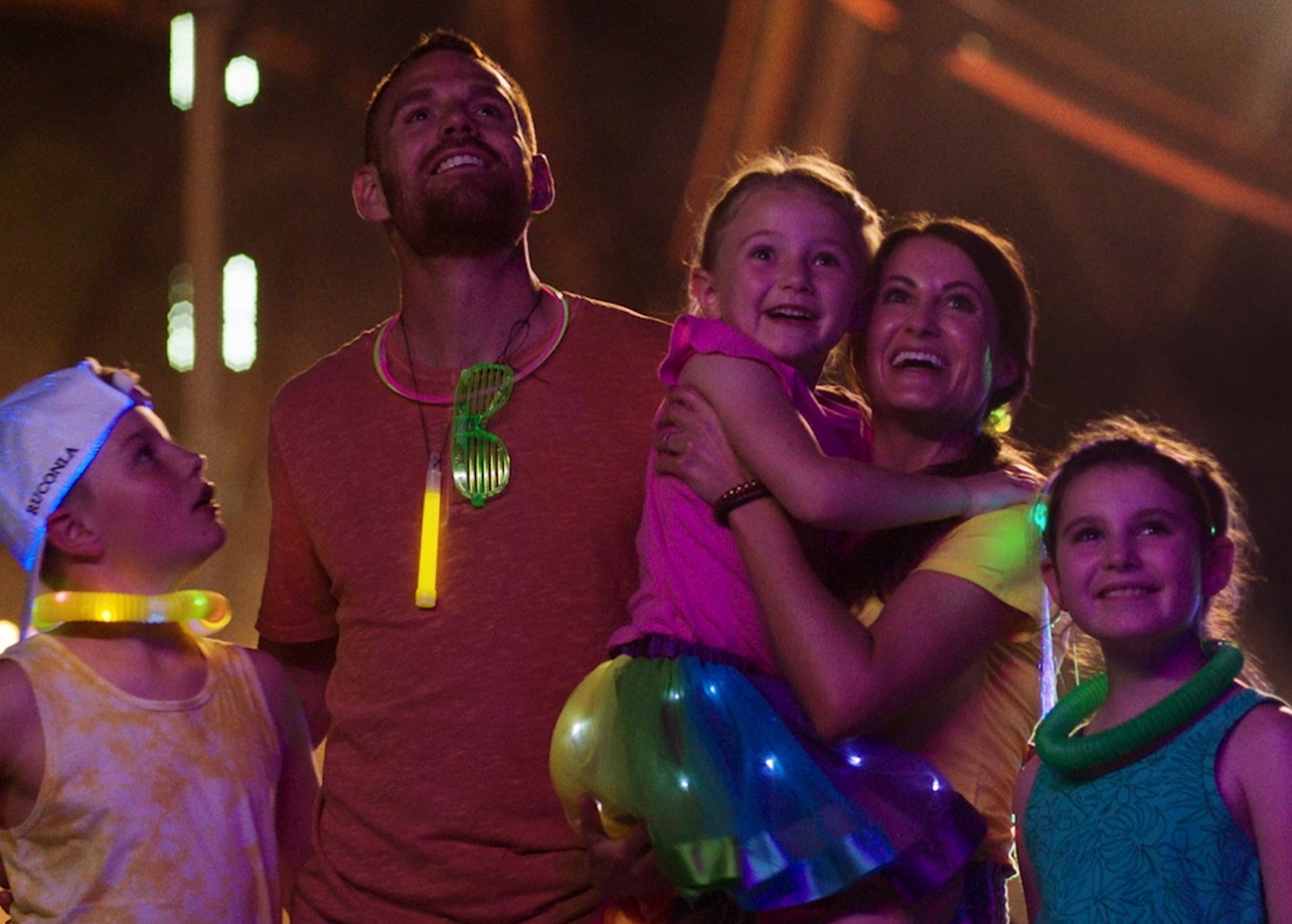 Telling the World
The world will only beat a path to your door if they know about your amazing new mousetrap, and so, as Holiday World's ad agency, it fell to Williams Randall to tell the world (at least the world within 200 miles of the park) that their client possessed this new worldwide sky sensation—almost literal lightning in a bottle.
How do you tell that story? Loud and splashy. The centerpiece of the campaign was a 30-second TV/streaming spot called "Lights," in which the immediacy of social media, the infectiousness of EDM (Electronic Dance Music) and every strobing, spinning color in the visible spectrum came together. The spot culminated in a giant dance party for kids and parents, reflecting the actual dance party the park put on each night as part of their "Holidays in the Sky" program. The kaleidoscopic, compelling ad was the result of months of intense effort from Williams Randall's creative team, plus talented contributors including FACTORY, über-producer Clare Libbing, Scofield Digital Storytelling, and songwriter/musician Mina Keohane. It ran on broadcast and streaming TV, as well as streaming audio platforms and social media. 
But video was just one of the tactics employed in a Summer '22 Holiday World campaign that also included radio, social, digital, outdoor and print advertisements. Care was taken in all aspects of the campaign to not lose sight of the fact that Holiday World is, after all, an amusement park, featuring exciting rides and attractions with an emphasis on family-friendly fun.