On-the-spot innovation changed challenges
into advantages for tourism project.
In the fall of 2021, Williams Randall was getting ready to put together the coming year's Visit Hendricks County (VHC) visitors' guide, the same as we'd done each year for most of the previous decade. However, with COVID-19 and its variants still very much a threat to public health—to say nothing of the tourism industry—the endeavor's effectiveness was looking a little questionable.
Or was, until designer Amanda Newell began proposing a series of editorial pivots away from the piece's traditional format that helped make the guide more timely, functional, content-rich and approachable. These changes can mostly be summed up as an insistence on viewing COVID-stipulated changes to the periodical as opportunities rather than limitations.
Buy—and paint—locally:
A lack of new commercial photography for many of Hendricks County's attractions—and a worldwide pandemic that made commissioning new shoots problematic—forced Williams Randall and Visit Hendricks County to look beyond convention. Newell learned of an up-and-coming local painter, Justin Patten of Zionsville, whose distinctive and vibrant paintings had earned him a loyal and growing regional fanbase in recent years. Sensing an opportunity, we reached out to Patten to see if he'd be interested in painting several Hendricks County scenes for the guide. Patten agreed, and his colorful, dynamic art is featured on the cover and throughout the guide, solving the photography issue while exposing the artist to new audiences and lending a special, collectible air to the entire piece.
Photos by the people, for the people
Another way we addressed the scarcity of professional photography was turning to quality user-generated images. The user-generated content site crowdriff.com, a Visit Hendricks County partner, offered an intriguing option for the VHC guide. Using images taken by real Hendricks County visitors also allowed Williams Randall to include more attractive, illustrative images in the guide than ever before, a welcome secondary benefit.
Personalizing the experience
Choose your Own Adventure was a highly successful series of children's books that sold over 250 million copies between 1979 and 1998. The unique concept behind these books was that the reader made choices that ultimately affected the story's variable outcome. Williams Randall decided to employ a Choose Your Own Adventure approach in the VHC visitor's guide, offering readers the option to customize their trip by asking questions whose answers determined their Hendricks County "adventure." For a reader in the guide's target demographic of moms looking for a day of family fun tailored specifically to their likes and needs, the appeal is clear.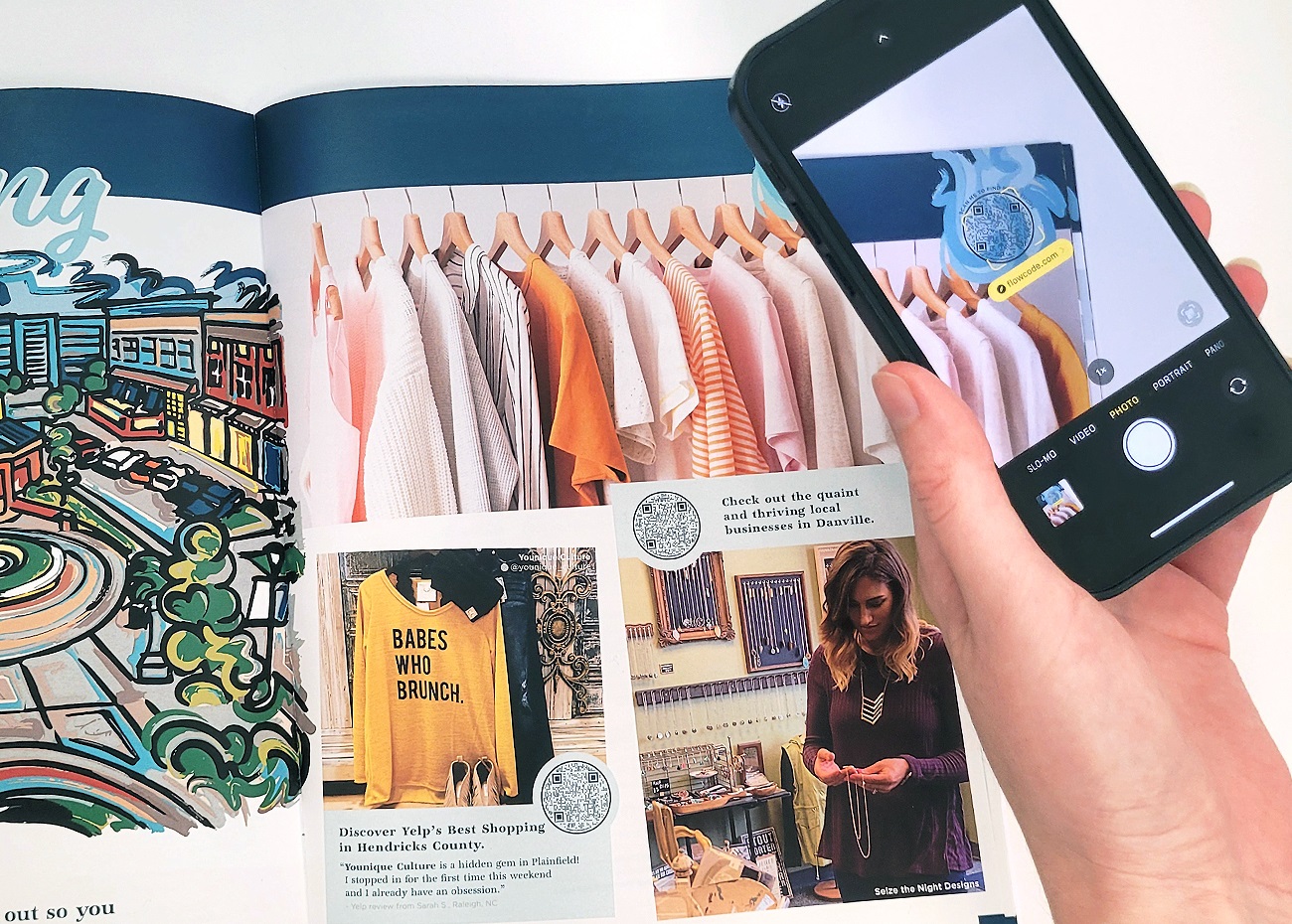 Cracking the codes
Once upon a time, QR codes were a Next Big Thing in marketing …that never quite became a "thing." COVID changed all that, when their ability to communicate dense and varying information without physical contact proved ideal during the pandemic. For the same reasons, Newell's use of QR codes throughout the 2022 VHC guide was inspired, allowing users to see up-to-the-minute info (i.e. an event's details changing) as well as maintain engagement through signing up for social follows and notifications. The immediacy and interactivity that QR codes brought to the table represented crucial functionality for a print piece in 2022, and contributed greatly to the guide's overall approachability and relevance.
Another enormous benefit of employing QR codes in the 2022 visitor's guide was the ability to track scans and see which content people were engaging with, an indispensable resource for improving future years' guides.
An iconic choice
While keys and icons had been a component of the VHC visitor's guide for years, Newell increased their timeliness with a 2022 update, adding new symbols for such things as Black-owned businesses or Tesla-charging stations.
With a number of savvy innovations by a team member with an eye on innovation, Williams Randall was able to transform the 2022 VHC visitors' guide into a vital, dynamic tourism piece that should yield strong results in the months and years to come.